Continuing on with highlighting vendors this season, I want to bring your attention to a sweet and wonderful planner I met last year.  Megan and I worked on a styled shoot together this past week (I can not wait to share more of this!) as well as a styled shoot last fall.  She is a wonderful person and planner.  If you are looking to us a planner for your upcoming wedding, either day of or for the full process, look into using Megan Mary Events.  She is phenomenal and will not disappoint!
I asked her a few questions regarding her business and below are her answers!
What 3 words describe your work?
Practical. Pretty. Planned.
How long have you been in business?
I have had my own business, Megan Mary Events, for 2.5 years now.
Why or how did you get started in your industry?
I have always loved parties and events. I started as a banquet server in high school and my love for the industry grew from there. In college I coordinate a few banquets and that's when I realized that I had a knack for the project management of large scale parties. Weddings are such elaborate events, it only made sense to dive in and find out what the need was on the project management and coordination aspect of them. I assisted a couple different planners in the Twin Cities before branching out on my own.
What have weddings taught you?
Weddings have taught me that nothing in life will ever go completely as planned – there are so many moving pieces, so many small details. It's all about how you plan for those type of hiccups and then the grace that you have to get through them and move on.
Best or worst wedding advice you received when you got married (if you are married!)
Your Mom is your friend, don't be mean to her in the planning process! Also, remember that times have changed since she has been married – so her ideas about how the day will go and the cost of it may be a little off.
What is your style?
My style is modern-traditional. What does that mean? Truthfully, I just made that term up. I love traditional aspects of weddings but I also love when the couple puts their own touches on the day. Personalization is SO trendy right now and for good reason – it helps the guests get in to your life and brings your personalities out for your wedding day.
What is the best thing you have seen happen on a wedding day?
The best thing I have seen on a wedding day… It's been more than once but I love when the couple's families are friends and get along like they have known each other forever. And totally cliche, but I love when a groom cries while his bride walks down the aisle to him.
What are some sources of inspiration or influences on your work?
I love using Pinterest as a starting point for a vision. Otherwise, I will often see an outfit someone is wearing or a few cool decor pieces at Home Goods. Those real world experiences are really where a lot of my inspiration comes from.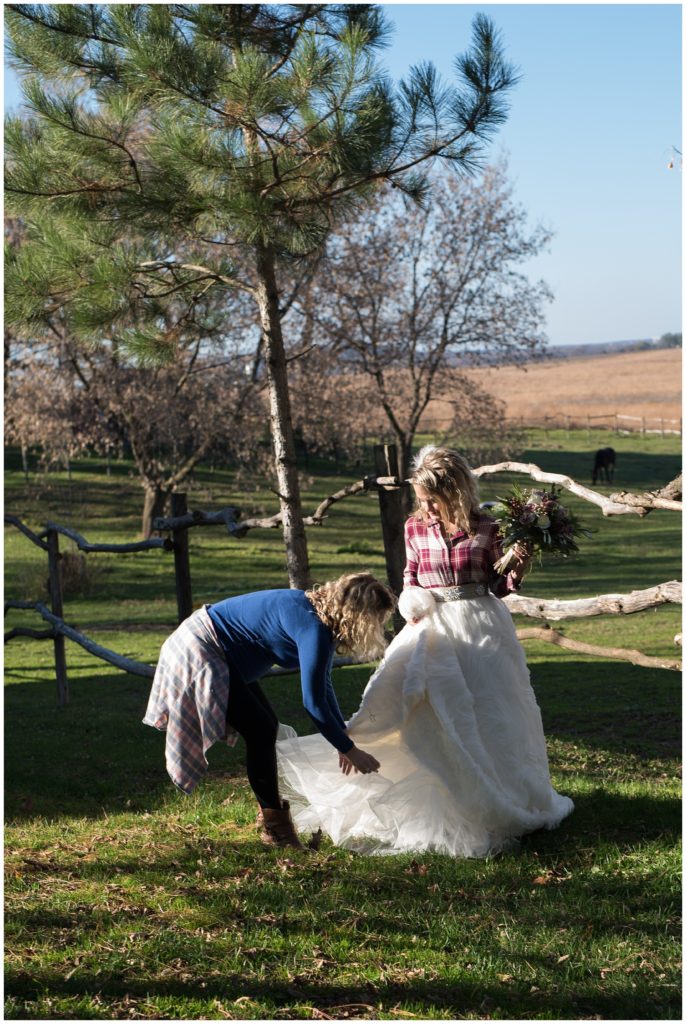 What's your favorite way to wind down after a hard day?
Sometimes on wedding days I put in 20,000+ steps, my feet are tired and my brain feels like mush. The morning after an event I love waking up to sunshine, enjoying an espresso on my deck and putting my feet up. I also often enjoy leftover flowers from the event the night before – that's such a fun perk at the end of the night, getting some flowers to enjoy that week!
What sets you apart in your industry or what do your clients say about you?
I always have an assistant planner on the day of an event. It's so important to have an extra set of hands – we don't always know where we might be needed on the day of a wedding! Also, I am very creative and can help with decor, I love playing around with pieces that you want to have together but aren't quite sure how to lay them out.
Advice you would give to newly engaged couples.
In the grand scheme of things, it's one day… Of course you want you and your guests to have a great time but remember that the money you spend now, you won't have later.
To look into Megan Mary Events check out her website, Facebook and Instagram Feeds. And get inspired on her Pinterest page!