I have just been loving these interviews with vendors these past few months!  Many of them I have known before while some I have just met within the past year.  Whomever it is, I am learning and being inspired by incredible women in the wedding industry, I hope you are too!
Mackenzie and I met at her sister's wedding.  She was the maid of honor. This past week we talked and she reminded me that the way we actually connected was when she invited me to sit and eat at the reception.  I was a little unsure because I was the hired help, but she insisted that I eat, and not just at any table, but with and with her sweet family!  As we chatted, I realized we had much in common. She too was in the wedding industry as a wedding planner. We had children that were the same age, both shared the same faith, and we both loved connecting with people!
Fast forward a few years and I was able to take family photos for her, and when I approached her this winter on putting together a styled shoot, she was all over it!  She was the spark plug that I needed to get me through the MN winter and connect me with other incredible vendors.  I'm so glad I was able to interview her this month.
Meet Mackenzie!!
How long have you been in business? I have had my own event company for 4 years, but in the event industry for 17 years. I started in Corporate Events working only with Fortune 500 companies, moved into the non-profit sector, and now planning and operating small business events, celebrations and weddings with my own company. With this variety of experience I know how to work with a variety of clients and vendors!
Why or how did you get started in your industry? I have been planning events since I was a kid. I was the person in high school that led the charge in planning for the "Spring Flings" and Homecoming activities. Planning and executing events never stressed me out. I loved seeing the end-result, getting a team around a common cause, and helping people to build community and have fun.
What 3 words describe your work? Relational, Detailed, Client Driven (She also told me later… clipboard!)
What have weddings taught you? Interesting question. Weddings are not my bread and butter, but I do have wedding clients every year. I look at my job as helping the bride and groom, and the mother of the bride sit back and enjoy the day without looking around wondering if something is going to happen at the right time and in the right fashion. There is something magical that can happen with a group of people come together for a common purpose, cause, person or couple. We have all been to weddings or events and left thinking – that was the best! You don't totally know why, but it was a blast. Conversely, we have been to weddings or events and are left thinking, there was something off tonight. That feeling comes from very little details not coming together just right. It is my job, and my pleasure, to insure that the money that clients spend on their event is used well and that the details are perfectly orchestrated.
I'm telling you, and people may not want to hear this, but all the things that we worry about prior to the big day really fade into the background the day of. What I love at weddings – and what I think people remember – is meaningful speeches from the Father of the Bride or any relative to the bride and groom Sincerity and loving words about the bride and groom leave a lasting impression on the guests and give a window into their families of origin – I love that.
What have events taught you? Events in general, have taught me is, don't freak out – it is all going to be okay. My positive attitude and experience is something I bring to the table with my clients. Over 17 years I have seen it all. I was working an event on September 11th, I've flown out of a hurricane with clients, I've arrived to a venue and the food isn't prepared at all, I've worked in places where there are language barriers, I've worked at events where there is a medical emergency and on and on. I keep a cool head, and find the best solution to the problem – calling on the help of fellow suppliers when needed. Guests look to the event planner to see how they should be feeling, so keeping a calm face and demeanor helps to set the tone in situations that are unplanned.   I also know the value of having wonderful working relationships with all the vendors hired for an event. I introduce myself to servers, doormen, and musicians so they know who to come to if they need anything. Events go best when the team is working well together!
What is your style? I am positive, detailed, personable, fun, hard-working and always trying to find a way to save the client money.
What are some sources of inspiration or influences on your work? I have the gift of hospitality and I love to build community. Our home is open to friends and family weekly and it is something that we feel passionate about. My faith inspires my work because I believe that we were made for relationships and community. I want to help others be able to host events and make their guests feel comfortable and at home and build that sense of community. I stress to all of my clients that what truly helps people have fun at an event is feeling comfortable and welcomed. I can support a host/hostess in this goal by taking care of the details so they can be focused on their guests.
Tell me your best or worst wedding advice you received when you got married. Best wedding advice, and something I share with future brides and grooms is, each of you should choose one thing that is important to you and funnel money toward those two things. You can spend tons of money on all the elements of a wedding day, so set your priorities.   Best MARRIAGE advice is go through marriage counseling and make your relationship a priority if you have kids.
I don't think I got any bad wedding advice or if I did I didn't listen to it!
Advice you would give to newly engaged couples. Make sure your relationship is solid – get it all out on the table – you don't want big surprises after you get married. Definitely go to pre-marriage counseling. Also, set a time that you are going to talk about wedding details during the week, don't talk about it every time you are together. That can be fatiguing and take the joy out of the planning process. Put a date on the calendar for wedding talk and try to stick to that! I tell couples marriage really is amazing – it is a gift. Society sometimes tells us that marriage is like a ball and chain, but it doesn't have to be. I love being married!
What's your favorite way to wind down after a hard day? It depends on the day! I have 5 kids on top of my work so sometimes winding down doesn't happen! But, I try to exercise daily, hang out with my husband and watch a good show, having a glass of wine and talking through the day with my husband or just getting some sleep are all ways I try to wind down.
What sets you apart in your industry or what do your clients say about you?  I am organized, efficient, and very personable to deal with.  I am on top of the event, and I make the entire process fun and easy. Because I value relationships so much, we will be friends by the end of the event process!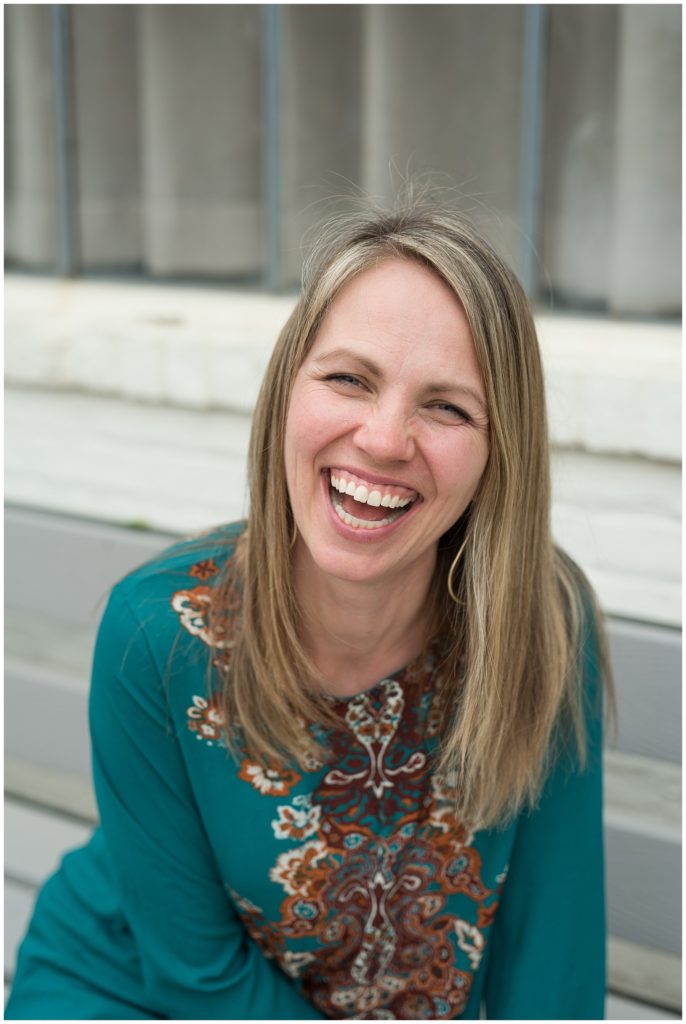 And now you know why I love Mackenzie so much.  She is such a real, authentic, person that I hope you get to know some day! If you are looking for an event planner check her out!